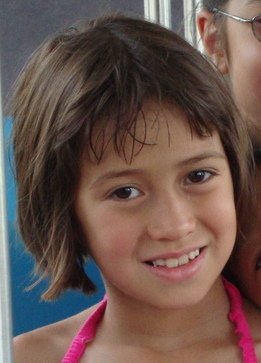 Elizabeth Grace Rasmusen, June 20, 2000--July 13, 2009
Elizabeth Grace Rasmusen was born June 20, 2000, in Bloomington to Eric and Helen (Choi) Rasmusen. Part of her babyhood was spent in Cambridge, Massachusetts, and Tokyo, Japan, with a side-trip to Seoul to visit her great-aunts. As a preschooler, she was always to be found near her big sister Amelia, whom she adored and who did not hesitate to include her in all that she did with her friends. Lizzie made many friends of her own at St. Philip and James School in Oxford while she was there 2007-2008. She was a student at Lighthouse Christian Academy for kindergarten and grades 1 and 3. She was commended for Reading (in Academics) and for Faith, Wisdom, and Fairness (in Character) at the end of third grade. Mrs.Scuffham called her "A Prayer Warrior'' because she prayed so well for other people. She was known for being caring and giving, and for loving God sincerely; a classmate said, "I know that she is in heaven , because she loved God the most in our class." Elizabeth was quiet, but her ever-moving body and face showed all of her thoughts, which were mostly very happy. Matt Wooden, the youth minister at Evangelical Community Church, said that at camp Lizzie was always right next to Anna Wiley. Anna talked all the time. Lizzie didn't talk much. But by the end of the camp, Matt said, he knew Lizzie just as well as Anna--- Lizzie didn't talk, but her face taught you all you needed to know about her. She loved gymnastics, animals, thinking of inventions, reading Mandy books, singing in the car, riding her scooter, and looking after the little kids. She and Amelia had started a weekly Girls' Club just before her fatal accident, an example of her fondness for big projects.

She was both quiet and flighty. "Nobody can read my mind, because I always think of five different things at a time!" she said. She truly lived the life God gave her. After she had been doing aerial summersaults with Daddy holding her hand, she once said: "I want to do it again and again and again! I want to do it all the time! I want to do it in the day time and in the night time. I want to do it.... in the car! I want to do it taking a walk!''

Elizabeth was killed instantly on July 13th, 2009 when the car she was in was struck by a high speed Amtrak passenger train at Route 34 and East 23rd Road near Somonauk, Illinois. She is buried in Clear Creek Cemetery, Bloomington, Indiana. In mind, body, and spirit, Elizabeth was very much like her Grandma Rasmusen, who died in the crash with her. Both of them were free spirits, gentle, pious, ingenious, and caring. They looked alike too, and had the same tomboyish floppiness , quiet exuberance, and keen attention to what people were doing around them. It is good that neither knew of the other's death.

She was survived by her parents, Eric and Helen (Choi) Rasmusen, by her older sister Amelia, her younger brother Benjamin, and her little sisters Lillian and Faith. She and Amelia were inseparable, sharing many friends in common and even a classroom and teacher for the year when Mrs. Stettenbenz taught first grade to Lizzie and second grade to Amelia. Lizzie and Benjamin liked to run around being goofy together. She was the one of the children who most liked hugs, and even at age nine she liked to ask her father if she could sit on his lap after dinner while they waited for dessert. Now that she is gone, six-year-old sister Lillie often says, "That's something Lizzie liked," and three-year-old Faith will say, out of the blue, "I want Lizzie!". Elizabeth had a full and good life despite its brevity, and it is we, not she, who are left incomplete. Many, many people will remember her and miss her.
---
December 16, 2009. Abridged, May 1, 2021 for this web version. On the web at http://www.rasmusen.org/special/memorial/elizabeth.rasmusen.htm. Erasmuse@Indiana.edu.
---